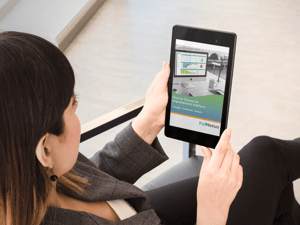 We are super excited about the launch of our new eBook designed to take the guesswork out of choosing Lean management software for your organization. Of course, we hope you'll consider KaiNexus, but even if you don't, this new guide to improvement management software selection will help.
Our roadmap for getting the best solution will be useful whether you are using the Lean management business methodology or another approach. That's because the best solutions allow you to tailor the platform to fit your organization's improvement paradigm.
Here's a preview of what is covered.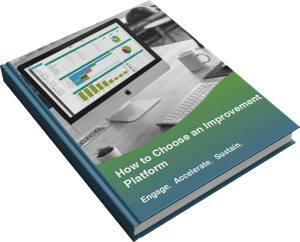 In this eBook, you will learn:
Benefits of improvement software
Does your organization need an improvement platform?
Why not just use Excel, analog boards, or a suggestion box?
Improvement software feature checklist
How to evaluate vendors
How software supports popular improvement techniques
Implementation best practices
Why Consider Lean Management Software?
The first sections outline the 11 top benefits of Lean management software. You'll learn more about how technology provides additional insight for leaders, improved goal alignment, streamlined cross-functional collaboration, and built-in employee recognition.
Several of the benefits are related to measurement. With Lean software in place, you 'll enjoy improved tracking of employee engagement and the health of your Lean culture. You'll also be able to quantify the impact of each improvement and measure the amount of waste your team is able to eliminate.
What Types of Organizations Should Consider Lean Technology?
The Lean management approach evolved in the manufacturing sector, but today, it is practiced in almost every industry from healthcare to construction. Our eBook lays out the non-industry related characteristics of companies that benefit most from improvement management software. Does your business have multiple locations or remote workers? Are you growing by leaps and bounds? Are your long-term goals ambitious bordering on outrageous? If so, you'll find this content useful.
Which Employees Should Engage with Your Lean Solution?
Spoiler alert – Lean management software can be useful to every employee in the organization. Leaders benefit from sharper insights and reduced administrative burdens. Managers and supervisors get more done on time and within the budget. Frontline employees can engage in Lean work and collaborate across department silos while being recognized for their efforts. There's even something in it for HR.
Why Not Just Use a Suggestion Box, Excel or Huddle Boards?
There are alternatives to Lean software. Suggestion boxes have been used to capture ideas for improvement for decades (if not centuries). Excel is a go-to solution for almost any business challenge, and huddle boards bring visualization to Lean management. But, while there are some pluses to each of these methods, there are significant drawbacks as well. We get into each of them and give you some reasons to try something different than the status quo.
Software Features Checklist
There are a lot of solutions out there for you to consider. Some are generic project management solutions, while others have been developed specifically with Lean and improvement management in mind. Whatever route you take, we've put together a list of the 16 most essential functions, so you can see which products stack up and which might not be up to the job.
Vendor Evaluation Guide
The features and functions of the Lean management software you consider are crucial, but details about the vendor who provides it are also essential to know. When you invest in this type of technology, you are creating a partnership that you want to last. We give you the four most important questions to ask yourself about every vendor you consider.
How Software Supports Popular Lean Techniques
Lean practitioners have a valuable collection of techniques to aid waste elimination and improvement implementation. Most of them can be used without software support, but in almost every case organizations get better results when they leverage technology. Catchball, Gemba Walks, Kaizen Events, strategy deployment, DMAIC, Kanban, and Standard Work all get better with software. This eBook explains precisely how.
Implementation Best Practices
Once you've selected the best Lean software solution for your organization, you aren't over the finish line yet. The platform needs to be implemented in a way that it will be adopted and efficiently leveraged by your team. We've helped hundreds of organizations with improvement management software deployments, so we've pulled together some of the most critical implementation tips.
If you are looking for the ultimate guide for Lean technology selection, this eBook is it. It will help you sell the concept of Lean software to your organization, make the right choice, and get the solution up and running. Enjoy!