Most people don't purchase quality improvement software solutions very often. So if you are in the market for a way to support your QI efforts, but you're not sure where to begin, you are not alone. Fortunately, you've come to the right place.
This post will detail all of the features that you should expect to find in a quality improvement platform. Not all of them will be essential for your current needs, but if you select a solution that covers all the bases, you'll be in great shape as your organization changes over time.


Simple Improvement Submission
It is smart to offer employees a variety of methods for capturing improvements. This helps engage the entire organization in quality improvement, regardless of their role or location. Be sure you can collect improvements via:
✔ Web Application
✔ Email
✔ iOS App
✔ Android App


Attachment Storage
Your improvement platform should serve as the one place for all improvement knowledge, Standard Work, and documentation.
✔ Image Attachments
✔ File Attachments
User-Friendly Interface
Once your quality improvement software has been selected, the biggest hurdle you will face is user adoption. Set yourself up for success by choosing a system that your team will love.
Minimal Training Requirements
✔ Easy for Staff to Use
✔ Easy to Manage and Organize Data
✔ Kiosk Mode (Ideal for organizations without individual workstations)
✔ Role-based View Simplification


Incident Capture
Quality improvement requires making sure that steps are taken to prevent the recurrence of every incident. It makes sense to manage incident reporting and improvements in the same platform.
✔ Private Incidents
✔ Maintenance Requests
✔ Safety Issues


Organizational Alignment
Your quality improvement efforts should be in lock-step with the strategic business goals of the organization. QI software can help ensure that everyone is rowing in the same direction.
✔ Align Improvement with Strategy Deployment
✔ Customized Input Templates
✔ Assign Improvement Author Credit
✔ Assign Executive Sponsors to Projects


Streamlined Improvement Project Management
One of the most important benefits of quality improvement software is that the structure ensures that projects will be completed more quickly. The following features are essential for achieving that goal.
✔ Task Management
✔ Dependency Workflows
✔ Customizable Prioritization Settings
✔ Scheduling
✔ Project Ownership
✔ Email Responses to Comments
✔ Configurable Approval Workflows and Milestones
✔ Activity Logs
✔ Customizable Layout
✔ Set Future Review Dates


Visual Management
People understand visualized data much more quickly and thoroughly than text. Your quality improvement software solution should take the friction out of communication with strong visual management.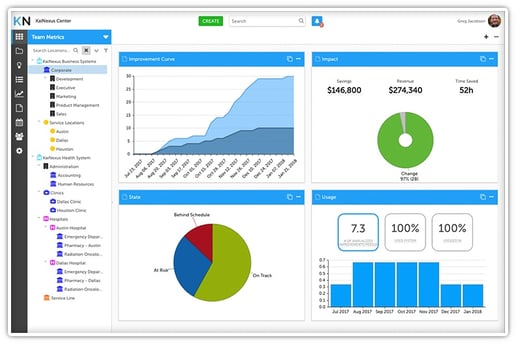 ✔ Visualized View of Task Load and Activity Level for All Users
✔ Calendar View
✔ X-Matrix View
✔ Kanban View
✔ Team Dashboards
✔ KPI Charts
✔ Bottleneck Identification
✔ Huddle Boards


Collaboration
Quality management is a team sport. This set of features is essential for keeping your team connected and in sync.
✔ Smart Notifications (Desktop, Email, and Application)
✔ Opt Into Action and Topic-Based Notifications
✔ Improvement and Project Based Discussion Forums
✔ Systemized Improvement Management


Reporting
It is important to keep in mind that the reports you get out of a QI software solution are just as important as the data you put into it. Robust reporting is the key to better decision making.
✔ Organization-wide Reports
✔ Team Reports
✔ Individual Reports
✔ Impact/ROI Reports
✔ Employee Time Tracking
✔ Investment Tracking
✔ ROI Forecast and Target Projection


Charts and Data
Several standard charts are commonly used to measure and track quality improvement activities. The software you select should support all of the following even if you aren't using them today:
✔ Run Charts
✔ Bar Charts
✔ Pareto Charts
✔ Goal Charts
✔ Bowling Charts
✔ Chart Annotation
Qualitative & Quantitative Impact Measurement
We know from our experience with clients that those that focus on measuring the impact of quality improvement get more engagement and executive support. The solution should help capture:
✔ Financial Impact
✔ Time Savings
✔ Safety Improvement
✔ Satisfaction Improvement
✔ Quality Improvement
✔ Project ROI


Culture Measurements
With the right solution in place, the health of your culture of quality does not need to be a mystery. You can gain tremendous insight by tracking improvement activities.
✔ Activity Reports
✔ Cycle Time Reports
✔ Success to Targets
✔ Engagement Scoring


Technical and Security
Performance, reliability, and security is a crucial part of any software evaluation. Quality improvement software must be well protected from unauthorized access. Look for:
✔ HTTPS/SSL Data Transfer
✔ Encryption at Rest
✔ Ongoing, Formal, 3rd Party Penetration Testing
✔ SAML 2.0 (Single Sign-On)
✔ Advanced Password Configuration
✔ HIPAA Compliance
✔ Content Restricted Emails
✔ Audit Logs


This is a long list, but if you can check off every one of these items, you'll know that the solution has the capabilities needed to support your team over the long-term, no matter the challenge that comes along.