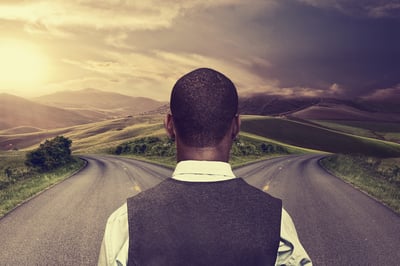 Whenever I think about the process of buying software two quotes, come to mind. The first is, "You don't know what you don't know." The second is from Henry Ford on the invention of the car. He famously said, "If I'd asked people what they wanted, they would have said faster horses." These lines explain why buying software is so complicated. If you don't know what's possible, it's hard to know if you've found the best solution.
Change management software is something that many organizations are looking to implement for the first time, so it's no surprise that many of the people we chat with don't really know what they should be looking for. They wonder if regular project management software is sufficient - as well as what sets the most complete solutions apart.
We want to help. This post will break down the capabilities and technical requirements of change management software into critical categories and identify the specific functionality you should consider. We've also put it all into a spreadsheet that you can use to compare solutions and determine the essential items for your organization.
Download the comparison worksheet here.


Software Infrastructure and Workflow
Managing change within an organization is complex and requires a supporting platform that is designed for that purpose. Every solution you evaluate will be unique, but the following capabilities are important to keep in mind.
Opportunity Capture – Because everyone in the organization can contribute to positive change, it's important to look for a solution that makes it easy to submit ideas for improvement via an online application, email, and mobile applications. Users should be able to attach documents and images that help explain the opportunity. The solution should be user-friendly and requires minimal training. There should be customizable role-based views and input templates.
Implementation – Once the idea for change is captured, you'll want the solution to support the process of execution so that nothing falls through the cracks. Look for straightforward project management with task management and dependency workflows. You should be able to assign ownership, schedule the project, and set customizable priority levels. Smart notifications on the desktop, email and in-app are essential.
Visual management is essential when it comes to change management, so make sure you have the options of an X-matrix, calendar, or Kanban view. You should be able to set up team dashboards with charts, graphs, and KPIs. The task load and activity level for all users should be easy to visualize.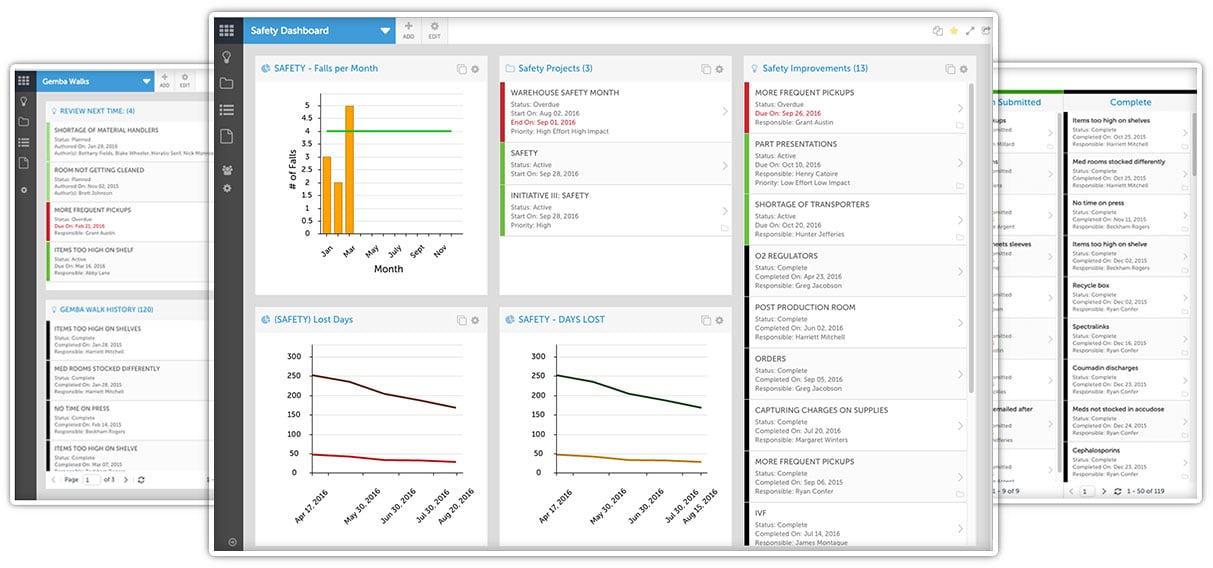 Measurement – When people think about software being easy to use, they usually focus on the data entry aspects of the solution. That's important, but getting data out is as important as putting data in. That means that sophisticated reporting should be high on your priority list. You should easily be able to get ROI reports and set ROI targets and forecasts. Reporting should be available on organization-wide, team, and individual levels.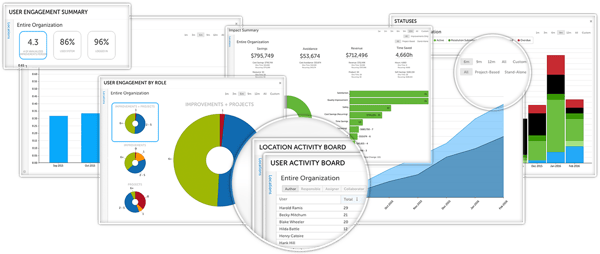 Concerning effective visual measurement, we recommend looking for a solution that includes the following charts and graphs:
Public and Private Huddle Boards
Control Charts
Run Charts
Bar Charts
Pareto Charts
Goal Charts
Bowling Charts
Kanban Boards
Custom Boards
Board Nesting

You should also be able to export your data to Excel if necessary.


Sharing – Change management is a team sport. The best solutions make it easy to share improvement work and collaborate across multiple functions. Of course, oversharing can cause data overload, so you'll want to be sure the software offers flexible visibility controls. There should be a centralized repository for sharing files. It should be easy for users to find past projects with Boolean search, advanced filtering, and custom lists. The most advanced solutions support a matrixed organizational structure and include location-based permissions. One feature that is often overlooked is the ability to broadcast successful improvement projects to help maximize employee engagement.
Support and Technical Requirements
Finding a solution with all of the functionality needed is only half the battle. It is also important to ensure that it meets the security and compliance obligations of your organization and that the vendor will be a good partner. Consider:
Support – When it comes to understanding the vendor's approach to customer success and support, we recommend asking a lot of questions.
Will you have a dedicated account manager to help with configuration and support?
How is product training handled and is it included?
What is the average response time for technical or usage questions?
Is there a self-service support portal available?
How often are product updates released?
Technical - You don't have to be a technical expert to get the best change management software, but there are some details to keep in mind. Security is essential, especially for companies that are required to be HIPAA compliant, so you'll need to understand how the vendor keeps data safe. The best solutions offer HTTPS/SSL data transfer, encryption at rest, single sign-on, and advanced password configuration.
Hopefully, this post has given you some ideas about what to look for as you compare the available solutions and providers. Let us know if you have any questions.