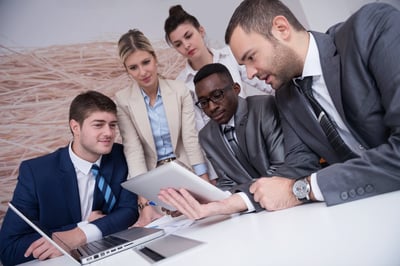 We find that it is often the people closest to the problem who bring a software solution to the attention of leaders. In many cases, successfully securing the green light to move ahead with a software implementation requires a bit of "selling up." After all, people who don't directly feel the pain of a problem are less likely to get excited by the solution.
If you are tasked with deploying the strategic plan or managing improvement projects Hoshin Kanri Software probably seems like a fantastic idea. The challenge is getting everyone else to buy in.
We've got good news.
When presented with all of the essential information about Hoshin Kanri software, executives quickly recognize its value more often than not. Here's an excellent approach to introducing the idea and getting the resources your implementation will need.
For more help getting the green light, download this free software comparison matrix.
Download this free matrix to:
See a list of all features and functionality available in improvement platforms

Calculate a weighted score for each platform based on available features and your organization's unique needs

Make an educated, intentional choice about which improvement platform is the best fit for your organization


---

Why Companies Invest in Hoshin Kanri Software
Your organization may be using the Hoshin Kanri strategy development method, but is it getting all it can get out of the approach? The following are questions that you might ask to paint the picture of why your organization might benefit from technology to support strategic planning.


Does Your Organization Need Hoshin Planning?
Several symptoms indicate that a Hoshin planning initiative might help your organization meet both short and long-term goals. Do you have:
Too many stalled or unsuccessful projects in process?
Long delays for incremental improvements?
Frequently missed forecasts and budgets?
Poor alignment between the vision of senior management and the daily operation of the organization?
Annual goals that get announced in April instead of January?
More projects with good potential in progress than you can realistically handle?
Yearly plans that don't seem to have any relationship to the last year's plan?
Employees who feel disengaged and disconnected from the team?
No connection between front-line continuous improvement activities and the strategic plan?

If any of that sounds familiar, the need for more order and structure around Hoshin planning and activities will likely resonate with your executive team.
The Benefits of Hoshin Kanri Software for Leaders and Employees
Now that you've laid out the problems that occur without a platform for strategy deployment, you can focus on the benefits for leaders and employees.


Leaders
It is the leader's most important responsibility to control the direction of the strategy deployment efforts and make sure that momentum is maintained. That requires care and attention, so anything that eases the administrative burden can help free up leaders to coach and develop employees.

Hoshin Kanri software creates access and transparency so that leaders can easily see which employees and teams are actively engaged in improvement. Leaders can tell where Kaizen culture is thriving and where additional attention is needed. That provides the basis for data-driven decisions and increases accountability.


Employees
Alignment can only be achieved when every team member understands the organization's strategic goals and how their objectives are related to the strategic plan. They also need to know how progress toward those goals is being tracked and measured.
Hoshin software gives employees a way to relate to the impact of the improvement work they do, whether it is an incremental improvement or a long-term project. The technology provides a method of tracking tasks, collaborating with peers, and reporting progress. All of this leads to faster improvement and increased engagement.


The Capabilities of Hoshin Software
At this point, hopefully, you've convinced the rest of the leadership team that technology might be a significant advantage for strategy deployment. You can bring the idea to life by describing precisely what Hoshin software does. Here are some of the most critical capabilities to stress.


Visual Management
The best strategy deployment software is equipped with meaningful visualizations of real-time data that lets leaders instantly gain insight into how progress is tracking toward goals. This brings the strategy to life and keeps it top of mind even when other day-to-day management pressures arise. Hoshin Kanri software with visual management also makes it easier for leaders to see when there are challenges that are slowing momentum or causing friction. Early corrective action can be applied so that deadlines aren't missed.


Activity and Engagement Reports
In addition to knowing what is happening regarding the strategy, it is essential to know who is active and engaged in furthering the top objectives. If you want team members to expend discretionary effort on the strategic goals of the organization, it pays to monitor and report that type of engagement.


Active Alerts and Notifications
The Hoshin Kanri solution you select should have the capability to alert team members and managers when they have tasks that need to be accomplished, when others complete tasks, or when assignments are waiting to be made. The solution should be both proactive and reactive.


Configurable Project Management
Your company is unique. Look for strategy deployment solutions that let you configure the system in the way that suits you best and use some of your own terminologies. The more the system aligns with your company's habits and culture, the more readily it will be adopted by your team.


Mobile Application
Your employees should be able to access their strategy and improvement application from any device at any time. You want to encourage your employees to engage at the moment when they have an idea, see a problem, or accomplish a task.
Now that you've described what problems Hoshin Kanri software help you solve, what benefits it has for leaders and employees alike, and what it is capable of doing, you've made a strong case for an investment. When your team leverages it to reach its breakthrough goals while completing daily improvements at the same time, you'll be the hero.