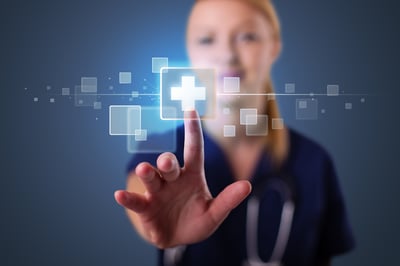 Kaizen boards are excellent tools for visualizing the progress of work and capturing ideas for improvement. They give teams instant insight into the health of improvement and make excellent starting places for daily huddles and other meetings. When the Kaizen board is managed in online software, teams can collaborate across locations, the entire organization can benefit from collected knowledge, and the documents and other artifacts can be linked to items on the board, accelerating the pace of improvement.
Because of the popularity of digital Kaizen management, many software providers are offering up solutions that are marketed for that purpose. That's good news for people concerned about continuous improvement, but there's a catch. Not every solution is purpose-built for Kaizen. Some are general project management solutions with a new marketing spin, while others are rudimentary improvement tools at best.
Make sure to look for the following attributes in each solution you consider.
(A quick aside - did you know that we have this handy dandy comparison matrix that you can fill out with details from all platforms you're evaluating, so that you can ensure you're comparing apples to apples and getting the platform that's the best fit for you? Download it for free here.)
Alerts and Notifications
Kaizen is most effective when employees are engaged at every level of the organization. The success or failure of your improvement program rests on employee engagement and effective coaching. That's why passive charts or analog Kaizen boards are likely to be ineffective tools for actually spreading improvement. Kaizen software actively drives engagement if it offers alerts and notifications so that people are reminded when action is needed or a new opportunity for improvement requires review. Managers are always in the loop when progress slows down, or a deadline passes without action; you don't need to wait until the next meeting to catch up.


Multiple Boards Management
Most organizations create multiple Kaizen boards to manage the improvement work of each department or team. It is important that executive leaders or anyone who oversees more than one function have access to as many boards as they need. That way, they can get a high-level view of the health of Kaizen across the organization. They can then drill down into any particular improvements of interest. Also - it's common for organizations to have a small improvement team leading the improvement work across the entire company. Digital kaizen boards make it possible for them to check on (in real time!) the kaizen boards of the entire organization, so that they can best choose where to spend their time and resources.


Configurable Boards
The purpose of data visualization is to communicate useful information to the viewer immediately. What makes up "useful information" is different for each person. That's why it is important that the Kaizen board be configurable for each user or role. You should be able to configure a simple board for individual users, one that highlights the work of the relevant area or department, one highlighting the To-Dos of leadership or managers, etc.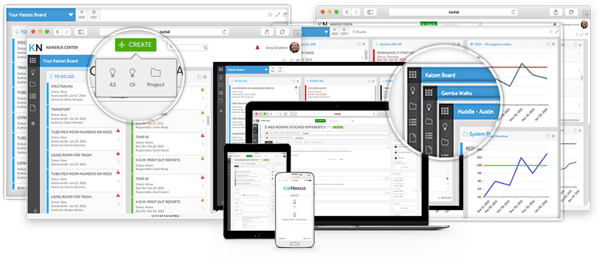 Online Access
It maybe isn't necessary to say it in 2019, but your Kaizen board should be online, and folks should be able to access it from anywhere on the device of their choice. The ability to offer an opportunity for improvement or document work should not be confined to any one place or time. Innovation often happens away from the desk.


Advanced Reporting
One of the main benefits of having a platform for Kaizen management is that all of the data you need to manage your program is centrally located, making it easy to report on improvement work. Be sure that you can quickly report on engagement, activity, and impact metrics.
Engagement
• How many improvements do people submit on average?
• Who are your most active employees?
• Which locations are most engaged?
• What percentage of your employees are participating in Kaizen?
Activities
• Is the number of open opportunities for improvement increasing?
• What is the current status of each project?
• Who is working on which initiatives?
Impact
• What is the ROI of your improvement effort?
• What are the one-time and recurring cost savings?
• How are non-financial results like safety, customer satisfaction, and quality improving?
Knowledge Capture
One huge drawback of physical Kaizen boards is that once an improvement is completed (or rejected) and removed from the board, all of the knowledge about that item is no longer visible. On the other hand, digital Kaizen boards create a repository of knowledge so that the history of improvement work is always available for others to review. You can repeat methods that work and avoid those that don't. It is also a great way to bring new employees up to speed by letting them review completed projects to understand the types of improvements the team undertakes and how the project is likely to proceed.
Digital Kaizen boards provide a supporting structure for all improvement work. Choosing a solution that checks each of these boxes will help your team stay aligned, engaged, and successful.