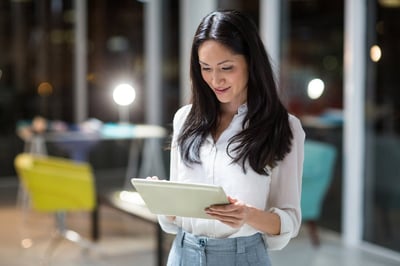 It's 2018, and if you haven't heard, there's an app for that. We use software to manage almost every aspect of business today from HR to accounting. You've got systems for inventory management, sales performance, customer communications, social media monitoring, and even conference room scheduling.
That's why we are not surprised that more and more organizations are implementing Lean software to support their critical objectives of increasing customer value and reducing waste.
Not only does Lean software make your team more productive at continuous improvement, but it also increases your strength as a Lean leader. Here's how.


You Get Real-time Insight into Business Conditions
If you think about it, most of the incremental improvements at the heart of Lean are not executive level decisions. Problems with the way supplies are stocked in a hospital exam room or time wasted due to duplicate data entry are probably not going to percolate up to the C-suite, but ironically those are precisely the types of issues that Lean leaders want to see addressed. Lean software gives you insight into issues like these and how your team is addressing them. You don't need to get involved in each one, but you should be able to track how many issues are being addressed, which types of problems come up most often, and who is working to enact positive change.


Goals are Consistent and Aligned
Most Lean leaders have a vision for where they want the organization to be three to five years from now. Achieving those objectives depends on everyone rowing in the same direction and working toward the same end. Lean software allows leaders to cascade goals down through the organization and evaluate each person's performance in light of their piece of the overall puzzle. This is particularly important for those engaging in the Hoshin Kanri approach to strategy deployment. Goal alignment makes decision making easier and which opportunities for improvement to implement easy to discern.


You Can Monitor the Health of Lean
If you have a massive heart attack or get hit by a car, you'll know to seek medical help immediately. However, the most common and difficult to manage health conditions, like high blood pressure, or high cholesterol, might not have symptoms, so you don't notice them without regular screening. Business problems can be the same way. Leaders jump into action when something goes wrong but might not see subtle changes to employee engagement or a lack of progress on improvement projects that indicate that Lean culture is not in good health. Lean software gives you a dashboard for measuring the level of activity in every department or team. You can see when forward progress is losing momentum and jump in at the right moment to prescribe a solution.


The Investment Signals Commitment to Staff
As I said in the beginning, these days if something is important, there is software to manage it. Your team knows that, too, so investing in Lean software is a clear indication to everyone that you are willing to invest in Lean and the tools that make it work. In a way, it also signals a commitment to employee development because the Lean approach creates tremendous opportunities for employees to become project leaders and it sets every person up to do their best work.


Employee Recognition is Built-in
Leaders often ask employees to exercise discretionary effort, in other words, to do things that they aren't technically required to do. This level of employee engagement is how organizations experience rapid change and progress toward their goals. One of the keys to getting people excited about Lean is recognizing those who go the extra mile. People respond positively when leaders appreciate their efforts and those of their peers. The best Lean software solutions have built-in recognition capabilities, so it is easy to make sure everyone know how grateful you are.


You Can Prove the Results of Lean
Most companies wouldn't dispute that it is a good idea to reduce waste and try to perfect processes. What Lean software gives you is a way to quantify the results of those practices and measure the impact of improvement across the board. Instead of trying to convince stakeholders like investors or board members that Lean is working, you'll be able to prove it in terms of reduced expenses, improved satisfaction, fewer defects, and your other key business metrics.
Becoming a Lean organization isn't easy, but it can pay off in droves. With Lean leadership software to support your efforts, you'll be more likely to make it a success.