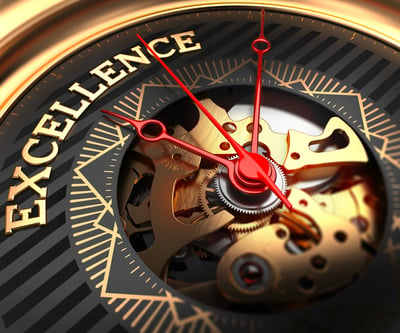 Starting a quest for operational excellence is one of the most significant steps an organization can take. Operational excellence involves focusing on the customers' needs, keeping the employees engage and empowered, and continually improving processes in the workplace. It requires effective problem-solving, collaboration, and leadership.
While the concept of operational excellence is not new, today's most competitive companies take a modern approach to achieving excellence by leveraging software designed to help manage the journey toward perfection. The most helpful solutions include each of these thirteen key capabilities.
Top-Down and Bottom-Up Opportunity Capture
One of the bedrock ideas behind operational excellence is that everyone in the organization can spot opportunities for improvement. Sometimes ideas for improvement start with the executive team, but much more often they are generated by front line employees. Operational excellence software makes it easy for anyone to capture and document an opportunity to make a process or product better.


Activity, Engagement, and Impact Reports
Leaders are responsible for creating a culture that supports the pursuit of excellence. Doing so requires deep insight into the people, teams, and functions that are actively engaged in continuous improvement. Operational excellence software provides that with visualized reports that signal the number of improvement projects in progress, who is contributing, and how that work is impacting essential business metrics.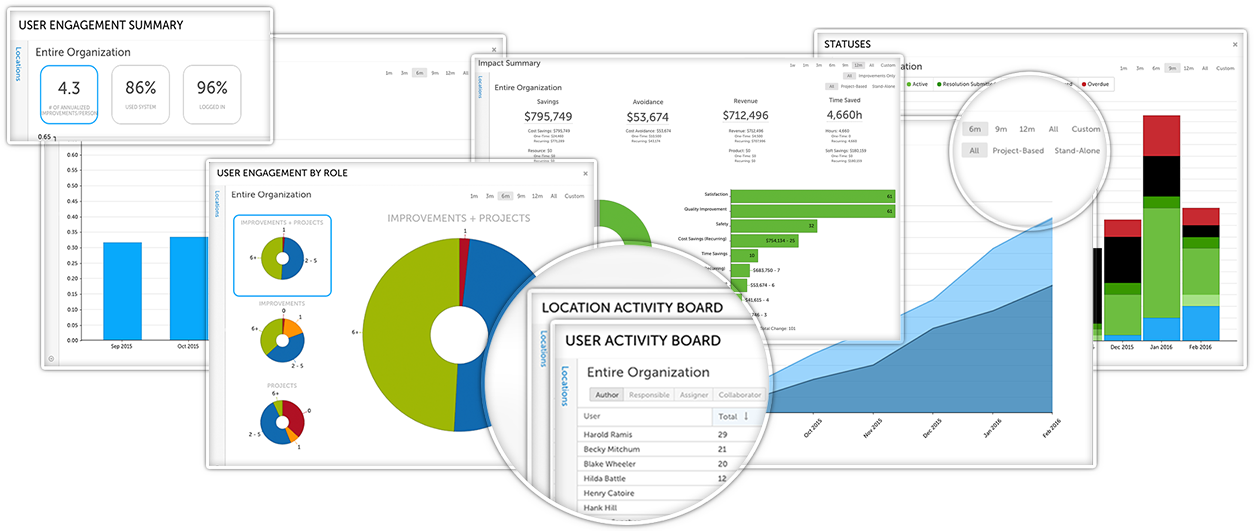 Strategy Alignment
Operational excellence can not happen if people aren't rowing in the same direction. Improvement projects should be linked to the strategy and breakthrough goals of the organization. Technology should aid leaders as they cascade goals down from the highest level to the individual. This gives everyone a clear view of how their efforts will impact the broader strategy.


Configurable Views and Boards
People won't adopt any software tool that doesn't provide value to them. That's why it is important that the solution be configurable so that each person gets the information in a format that makes sense for their role and responsibilities. Everyone should have access to the information they need no matter what time it is or where they are located.


Data Visualization
People understand images much more quickly and internally than text. That's why you want your operational excellence solution to include charts, graphs, and dashboards that make the progress of projects and the health of improvement culture immediately clear.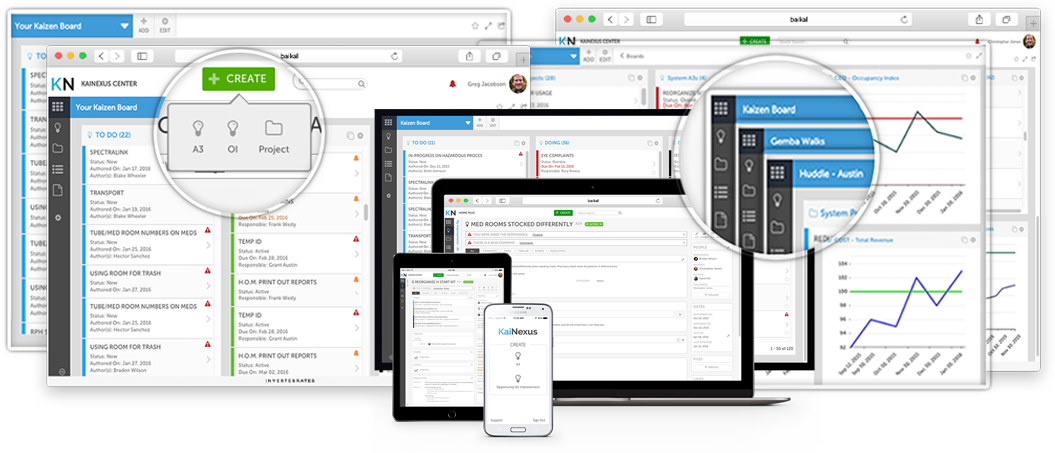 Workflow with Notifications and Alerts
To remove friction from the process of improvement, it is necessary to choose a solution that offers email notifications and alerts to help keep everyone on track and on top of each project. Notifications let managers know when there is a new opportunity for improvement that needs review. Alerts make it clear when a deadline is missed. This is the best way to ensure that no project falls through the cracks.


Robust Search Capabilities
Once you have operational excellence software in place, it will become your team's repository of institutional knowledge. It is essential that it is easy to find records of past improvement work based on keywords or categories of project. The point is to make it standard practice to build on past successes and learn from projects that miss the mark.


Cross-Functional Collaboration
In the search for operational excellence, you'll likely find that some of the biggest problems occur when work moves from one team or functional area to another. That's why many of the improvement projects that will have the biggest impact require cross-functional collaboration. Your operational excellence software should help unify the organization by giving everyone one platform to work from and a consistent language around improvement work.


Strong Security
While the internet brings a great deal of convenience in terms of using and managing software applications of all sorts, it also brings a higher level of risk. Data security should always be a top concern when implementing software, and it is especially critical when it involves managing improvement work which will likely contain information that you want to keep confidential. Insist on a solution that uses secure web pages (SSL) and encrypted data.


Improvement Submission via Email
You will undoubtedly want your employees to be logging into your operational excellence software platform frequently, but in practice, sometimes it will be easier for someone to submit an opportunity for improvement through email. Finding a solution that supports email submission will remove an unnecessary barrier to engagement.


Device Independence
Your employee's best ideas for improvement may not come when they are conveniently sitting at their desk, but if folks can't engage at the moment, thoughts get lost, or other priorities take precedence. That's why it is an excellent idea to choose a solution that has apps for Android and iOS so it is always available on whatever device your team members prefer.


Online Support and Learning
Many users prefer a self-service option for getting support and training on software products. You can find operational excellence software that includes an intuitive knowledge center with video training. This will help your employees get familiar with the solution when it is introduced and help your new employees get up to speed and productive right away.


Improvement Broadcasting
When a process gets moved one step closer to excellence, it is essential to recognize and applaud the folks who made it happen. Announcing and celebrating success is how leaders create a culture that prizes improvement. Your operational excellence software should help make this standard operating procedure by including an improvement broadcasting feature.
Organizations that can claim operational excellence didn't get there by accident. They worked hard, stayed focused, and used all of the available tools to reach that laudable goal. The technology is available just waiting for you and your team to put it to work.