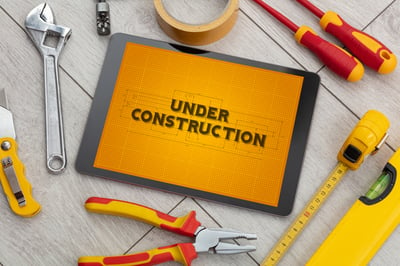 The Six Sigma business methodology aims to eliminate waste and defects. It also aims to reduce variation in business processes. Efforts to improve are considered Six Sigma projects and are often made using a systematic model known as DMAIC. DMAIC stands for Define - Measure - Analyze - Improve - Control.

As with any other improvement effort, the ultimate goal of the DMAIC method is to improve customer satisfaction. The key to satisfaction is quality. Satisfied customers become loyal customers who engage in repeat business and refer others.

Lean management is another business methodology similar to Six Sigma and leverages many of the same tools, so if your business has deployed Lean, this content will be of value to you.



Six Sigma Tools for DMAIC
The tools used in Lean and Six Sigma support the implementation of the six sigma methodology, which focuses on eliminating problems that exist in business processes. As a result, such tools help to eliminate waste, boosting business profitability and increasing efficiency.


Value Stream Mapping
One of the essential tools used to improve quality outcomes and eliminate waste is value stream mapping. Six Sigma practitioners use this tool during the Analyze step of the DMAIC process. It is a process map that visualizes how information and resources flow. Value stream mapping clarifies if some activities or resources are not contributing to customer value. In addition, value stream mapping can be targeted to remove wait times between multiple steps in the process.


Failure Modes and Effects Analysis (FMEA)
FMEA is a six sigma technique used to identify possible defects in a product, design, process, or service before they occur. The tool helps teams to thoroughly understand their business processes, identify potential threats, and develop countermeasures.

FMEA is used in the Define and Analyze phases of DMAIC. During the define phase, it is used to identify processes that require improvements and are susceptible to failure. Then is used to detect potential improvements.


Pareto Charts
A Pareto chart is a vertical bar graph in which values are visualized in decreasing order of relative frequency from left to right. Quality improvement leaders use this tool to measure process performance to identify the highest cause of defects in the business process. In general, 20% of issues cause 80% of defects. Pareto charts enable their users to hone in on the 20% quickly. Thus, they are helpful in both the Define and Analyze phases of the DMAIC process.


Voice of the Customer
The voice of the customer is a Six Sigma tool used during the Improve phase of DMAIC. By gathering feedback from customers about their expectations, needs, and experiences, businesses can tailor their products and services to customers' specific needs. The voice of the customer is often collected in surveys, but it can also be developed with direct conversations, interviews, or group discussions.


Regression Analysis
Regression Analysis is another Six Sigma tool used during the Improve phase. Quality assurance teams use this statistical tool to analyze and calculate the mathematical relationship that exists between two variables. Teams also use regression analysis to determine the relationship between a range of inputs and output variables.


Fishbone or Ishikawa Diagrams
A fishbone diagram, also commonly called an Ishikawa diagram, is a tool for performing cause and effect analysis. The most effective way to solve problems associated with any business process is to identify all potential causes. A fishbone diagram visually displays all the possible causes of defects or delays in a business process. It covers the significant areas of a process that could impede perfection, including materials, methods, people, equipment, environment, and measurement.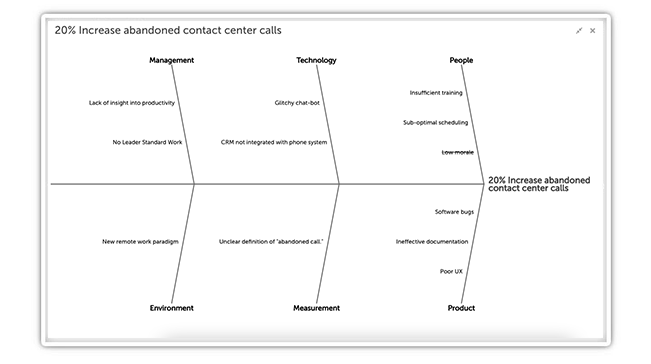 5-Whys
Another useful six sigma tool for determining the root cause of a process defect is the 5 Whys. Teams can usually uncover potential root causes by asking the question, "Why?" as often as necessary to get to the bottom of the problem. Five times usually does the trick, but the actual number depends on the complexity of the process and the situation.


Control Plans
The last stage of DMAIC process improvement is Control. At this point, the project team puts control measures in place to maintain the gains. A control plan is documentation of the necessary steps to maintain a process and ensure continuous improvement. The goal of the Control phase is monitoring and constant evaluation. The team measures the progress of improvements and adjusts or makes modifications as needed.


Standard Work
Once improvements are implemented, a set of best practices for each activity and task is developed. The result is called Standard Work. This information must be accessible in the place where work is performed, easily accessible to all process operators. It is not the final word but is instead the baseline for improvement. Before process operators deviate from the Standard, a new DMAIC cycle must be performed and a new Standard implemented.


5S
5S is a workplace organization approach that is also helpful during the Control phase. For example, visual indicators of where equipment, tools, raw materials should be stored and used help ensure that order is maintained and Standard Work is followed. The 5S process also helps teams remove items from the work area that are not needed and can get in the way of value creation.


Poka-yoke
Poka-yoke is a Japanese concept that translates to "mistake-proofing" in English. Organizations use poka-yoke to find the causes of human error in their processes and minimize it. It is considered in the Control phase of DMAIC to make errors as unlikely as possible.



Each of these Six Sigma tools is used to eliminate defects and waste in business processes. These methods and techniques are also employed in implementing six sigma projects. As a result, they help businesses to increase profitability and efficiency and reduce costs.

Six Sigma tools can be used to improve any business process. Businesses that utilize these tools during the DMAIC improvement cycle will achieve quality improvements. Ultimately, continuous process improvements lead to customer satisfaction and loyalty.