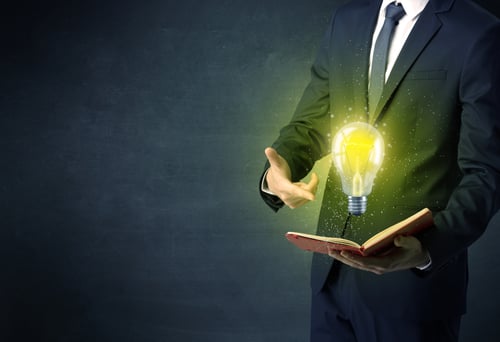 According to a study conducted by the International Quality and Productivity Center (IQPC), businesses that prioritize process improvement experience an average of 20% increase in operational efficiency within the first year of implementation. Over five years, these organizations typically see a 40% reduction in production defects, a 30% decrease in operational costs, and a 25% boost in customer satisfaction.
These statistics highlight the tangible and substantial benefits of business process improvement. It enhances efficiency, reduces costs, and directly impacts product quality and customer satisfaction, ultimately leading to increased competitiveness and profitability. Structured process improvement techniques have been developed to help organizations reach these critical goals.
This article provides a comprehensive look at the most popular process improvement methodologies that are helping companies increase profitability, employee engagement, and customer satisfaction.


What Is Process Improvement?
Process improvement methodologies are powerful toolkits for businesses aiming to enhance their operations. They're structured approaches that help organizations identify inefficiencies, streamline workflows, and boost overall performance. These methodologies, such as Six Sigma, Lean, and Agile, provide a step-by-step roadmap to analyze existing processes, root out bottlenecks, and implement changes that lead to increased productivity, reduced costs, and better quality outcomes. Think of them as roadmaps that guide businesses in their journey to become more efficient, customer-focused, and competitive. Whether you're assembling cars, serving customers, or developing software, process improvement methodologies are the secret sauce that can turn good businesses into exceptional ones.
One of the most iconic examples of successful business process improvement is Toyota's implementation of Lean Manufacturing principles. In the 1950s, Toyota faced significant production efficiency and quality control challenges. They adopted the principles of "lean thinking" inspired by concepts from the American statistician W. Edwards Deming, which emphasized minimizing waste and continuous improvement. Toyota introduced practices such as just-in-time inventory, where parts are delivered precisely when needed, and the Andon system, allowing workers to stop the production line if they identified defects.
The result? A transformative impact on the automotive industry and beyond. Toyota's commitment to process improvement dramatically reduced production costs and significantly improved product quality and customer satisfaction. Today, Lean Manufacturing principles are widely adopted in various industries worldwide, proving that a relentless focus on continuous improvement can revolutionize an entire sector.
Another business process improvement success story is Amazon. The e-commerce giant continuously relies on process improvement to revolutionize its order fulfillment and delivery processes. Amazon's process management triumph includes the introduction of automated robots and a sophisticated inventory management system to optimize warehouse operations. They implemented algorithms to predict customer preferences and stock items accordingly, reducing the time it takes to pick and pack orders. Furthermore, their Prime membership program, offering expedited shipping, drove them to continually refine and expedite their delivery processes.
The outcome is astonishing. Amazon has set new standards for e-commerce efficiency, with rapid order processing and reliable, fast deliveries. Their success has reshaped the retail landscape and influenced customer expectations for speed and convenience in online shopping. Amazon's approach showcases how a commitment to process improvement can propel a company to global industry leadership and redefine customer expectations.
Process Improvement vs. Business Process Improvement
Business process improvement methodologies are pivotal in enhancing operational efficiency across various industries. These methodologies provide structured approaches to optimize existing processes and eliminate waste, bottlenecks, and inefficiencies.
Lean Manufacturing, for instance, is renowned for its focus on eliminating waste in production processes. By implementing process improvement tools and lean principles, companies can make continuous and rapid improvements to reduce production costs and enhance product quality. Similarly, the Six Sigma methodology emphasizes data-driven decision-making and the application of statistical analysis to identify and rectify process defects. This approach ensures process efficiency and higher-quality outcomes, aligning with the overarching goal of improving business processes.
The Theory of Constraints is another invaluable concept within business process management. It centers on identifying and addressing workflow bottlenecks, enabling organizations to strategically allocate resources and overcome constraints that hinder productivity. As companies embrace these process improvement methods, they embark on a journey toward a culture of continuous improvement, where implementing process improvement methodologies becomes a core part of their business DNA.
6 Best Process Improvement Methodologies
Many factors inform how business process management is implemented in any given organization. The industry, size, maturity, regulatory environment, and culture all impact the details of how process improvement is implemented. However, there are some standard ways of structuring process management that organizations across the globe have leveraged to achieve increased productivity and profitability.


Lean Methodology
The history of Lean principles traces back to post-World War II Japan when the country was rebuilding its economy. Lean, also known as "Lean Manufacturing" or "Lean Production," was born out of necessity and evolved over the decades into a globally recognized approach for improving efficiency and eliminating waste in manufacturing and beyond.
The foundation of Lean principles lies in the Toyota Production System, or TPS. TPS introduced groundbreaking concepts like Just-in-Time (JIT) inventory management, which minimized excess inventory and reduced carrying costs. Additionally, the TPS introduced the idea of "jidoka" or "automation with a human touch," where machines could stop production automatically if defects were detected, ensuring high product quality.
Lean principles started gaining attention in the West in the 1980s when the book "The Machine That Changed the World" by James P. Womack, Daniel T. Jones, and Daniel Roos was published. This book highlighted the success of Toyota and introduced the term "Lean Manufacturing" to a broader audience. Companies worldwide began to adopt Lean principles to improve their processes, reduce waste, and enhance productivity.
Lean principles are a systematic approach to eliminating waste, streamlining workflows, and improving customer value. Here's how Lean achieves these objectives:
Eliminating Waste:
Identify and Eliminate Non-Value-Added Activities: Lean principles emphasize distinguishing between activities that add value to the product or service (value-added) and those that do not (non-value-added). Non-value-added activities are considered waste and should be eliminated or minimized.
Types of Waste: Lean identifies several kinds of waste, including overproduction, excess inventory, waiting time, transportation inefficiencies, unnecessary motion, defects, and underutilized employee skills. By identifying and addressing these wastes, Lean aims to reduce resource consumption and costs.
Streamlining Workflows:
Value Stream Mapping: Lean begins with mapping the entire value stream, which includes all the steps and activities required to deliver a product or service. This helps visualize the current state of processes and identifies bottlenecks and inefficiencies.
Standardization: Lean encourages standardizing work processes and procedures to reduce variations and ensure consistent quality. Standardized work provides a stable foundation for continuous improvement efforts.
Pull System: Lean often implements a pull system, where work is initiated in response to customer demand. This approach ensures that production and work are aligned with actual needs, preventing overproduction and excessive inventory buildup.
Work Cell Design: Lean promotes the creation of work cells, where equipment and workstations are arranged to facilitate a smooth flow of materials and information. This minimizes unnecessary movement and transportation of materials.
Improving Customer Value:
Customer Focus: Lean is customer-centric, primarily focusing on understanding customer needs and delivering value as defined by the customer. All activities within the organization are aligned with meeting these customer expectations.
Shorter Lead Times: By eliminating waste and streamlining workflows, Lean reduces lead times for delivering products or services. This means customers receive what they need more quickly, enhancing their satisfaction.
Higher Quality: Lean strongly emphasizes error prevention and immediate correction when issues arise. This approach improves product or service quality, reducing defects and customer complaints.
Continuous Improvement: The continuous improvement aspect of Lean ensures that the organization constantly seeks ways to enhance customer value. It's not a one-time effort but an ongoing commitment to better meet customer needs.
Lean principles empower organizations to identify and eliminate waste, optimize workflows, and deliver greater customer value. By doing so, Lean helps organizations become more efficient, reduce costs, and enhance customer satisfaction, improving competitiveness and sustained success.


Six Sigma
Six Sigma is a data-driven and systematic methodology to improve processes and reduce any organization's defects, errors, and variations. Rooted in statistical analysis and quality management principles, Six Sigma seeks to achieve near-perfection in process performance by defining clear objectives, measuring existing performance, analyzing data to identify root causes of problems, implementing improvements, and establishing robust controls to sustain those improvements. By focusing on reducing variation and defects to incredibly low levels, typically within a range of 3.4 defects per million opportunities, Six Sigma aims to enhance quality, increase efficiency, and deliver consistent, high-quality products or services. It has been widely adopted in various industries, emphasizing a disciplined approach to continuous improvement and a commitment to meeting and exceeding customer expectations.
The DMAIC framework is the practical application of Six Sigma. DMAIC stands for Define, Measure, Analyze, Improve, and Control. Each phase serves a specific purpose and offers distinct benefits.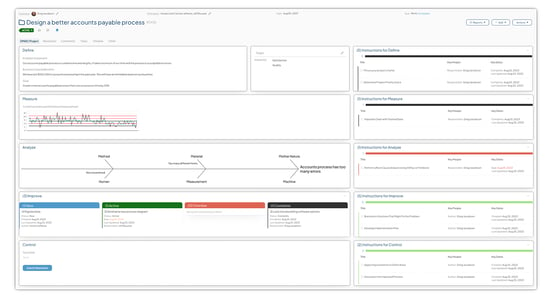 Define
The Define phase is about clearly defining the problem or opportunity for improvement. It sets the project's scope, objectives, and goals and identifies key stakeholders and customers.
Defining the project helps ensure that efforts are focused on the most critical issues. It aligns the team with a shared understanding of the problem and establishes clear project boundaries.
Measure
In this phase, data is collected to quantify the current state of the process. Measurements are taken to understand the process performance and identify potential areas of improvement.
Measurement provides an objective baseline for evaluating process performance. It helps teams identify the root causes of problems and assess the impact of potential changes.
Analyze
The Analyze phase involves a detailed examination of the data collected in the Measure phase. Statistical analysis and other tools identify patterns, trends, and the root causes of process issues. Analyzing data helps teams pinpoint the specific factors contributing to process problems. This leads to a deeper understanding of the process and informs targeted improvement efforts.
Improve
Based on the findings from the Analyze phase, the Improve phase focuses on developing and implementing solutions to address the identified issues. New processes or process modifications are tested and refined. The Improve phase allows teams to make evidence-based changes to the process. Analysis leads to process optimization, reduced defects, improved efficiency, and enhanced customer satisfaction.
Control
The Control phase is about ensuring that the improvements made in the previous steps are sustained over time. It involves implementing control measures, monitoring the process, and establishing a plan for ongoing monitoring and maintenance. By establishing control measures and monitoring the process, organizations can prevent regression to the previous state. The Control phase helps lock in improvements, ensuring long-term success.
General Electric (GE) is a well-known example of a company that successfully implemented Six Sigma principles to transform its operations. In the late 1990s, under the leadership of then-CEO Jack Welch, GE embarked on a journey to revamp its processes and enhance performance. The company faced numerous challenges, including inefficient processes, high operational costs, and quality issues.
GE's commitment to Six Sigma produced remarkable results. Over the years, they reported savings in the billions of dollars thanks to reduced defects, improved efficiency, and lower operational costs. Their products became more reliable and of higher quality, leading to increased customer satisfaction. GE's Six Sigma success extended beyond manufacturing to areas like finance, human resources, and customer service, showcasing the versatility of the methodology.


Agile Methodology
The Agile methodology emerged in the 1990s as a response to the limitations of traditional "waterfall" project management approaches in software development. The Agile Manifesto was created in 2001 by a group of software developers. Agile principles are a set of practices and values that guide the development and management of projects, emphasizing flexibility, collaboration, and customer-centricity. Agile teams' iterative and collaborative nature is at the core of these principles.
Customer Satisfaction Through Early and Continuous Delivery of Customer Value
Agile prioritizes delivering value to the customer as early as possible. Customer focus is achieved through iterative development, where small, usable increments of the product are released at regular intervals. This iterative approach allows teams to gather feedback from customers and stakeholders early in the process, ensuring that the product aligns with their needs and expectations.
Welcome Changing Requirements, Even Late in Development
Agile recognizes that requirements can evolve as the project progresses. Agile teams embrace change rather than resist it, adapting to new information and customer feedback. Through frequent iterations, teams can easily accommodate changes, making the development process more flexible and responsive.
Deliver Working Software Frequently
Agile promotes short development cycles, typically lasting 2-4 weeks (sprints or iterations). These short timescales encourage teams to produce functional, tested software quickly. Collaborative planning and execution are essential to meeting these deadlines.
Collaboration between Business People and Developers throughout the Project
Agile teams foster close collaboration between business stakeholders (such as product owners) and developers. Regular meetings, like daily stand-ups and sprint planning sessions, ensure everyone is aligned on project goals, priorities, and progress. This collaboration ensures that the product remains customer-focused.
Build Projects around Motivated Individuals, Trust Them, and Give Them the Environment and Support They Need
Agile principles recognize that motivated, empowered teams are more likely to succeed. Teams are entrusted with decision-making authority and are encouraged to self-organize. Collaboration is central to this empowerment, as teams work together to solve problems and make decisions.
The Most Efficient and Effective Method of Conveying Information to and Within a Development Team is Face-to-Face Conversation
Agile values direct communication, as it minimizes misunderstandings and promotes rapid decision-making. Face-to-face interactions, whether in-person or through video conferencing, enhance collaboration and foster a shared understanding of project goals.
Working Software is the Primary Measure of Progress
Agile emphasizes tangible outcomes over documentation. Progress is measured by the functionality and quality of the working software produced in each iteration. This approach ensures that the focus remains on delivering value to the customer.
Agile Processes Promote Sustainable Development
Agile teams maintain a sustainable pace of work to prevent burnout and maintain high productivity over the long term. Collaboration and iteration help teams manage workloads and maintain a balanced approach to development.
Continuous Attention to Technical Excellence and Good Design Enhances Agility
Agile principles encourage teams to prioritize high-quality code and design. Regular reviews and retrospectives help identify and address technical debt, ensuring the product remains adaptable and maintainable.
The Art of Maximizing the Amount of Work Not Done is Essential
Agile teams strive for simplicity in their solutions. Unnecessary complexity is avoided, and the focus is on delivering the most valuable features while minimizing waste.
Today, Agile thinking is used in a multitude of industries, including:
Healthcare: Agile practices are applied in healthcare to enhance patient care and streamline processes. For instance, hospitals use Agile to improve project management in implementing electronic health records (EHR) systems.
Marketing: Agile Marketing has gained traction as marketing teams apply Agile principles to plan, execute, and measure marketing campaigns effectively. It enables teams to respond quickly to changing market conditions and customer feedback.
Finance: Financial institutions employ Agile in project management, risk assessment, and software development. Agile helps them adapt to regulatory changes, enhance customer experiences, and manage complex financial products.
Education: Agile principles are used in education to improve curriculum development, adapt teaching methods to students' needs, and enhance the learning experience. Agile techniques help educators iterate on course materials and teaching strategies.
Government: Some government agencies have adopted Agile to modernize IT systems, deliver public services more efficiently, and increase citizen engagement. Agile allows them to respond to changing requirements and deliver value more rapidly.
Construction: Agile principles are applied in construction projects to improve project management, reduce delays, and enhance stakeholder communication. It helps construction teams adapt to unexpected challenges and deliver projects on time and within budget.
Product Development: Beyond software, Agile is widely used in new product development. Companies in various industries utilize Agile methodologies to create and iterate on physical products, ensuring they meet customer needs and market demands.


Total Quality Management (TQM)
Total Quality Management (TQM) is a comprehensive approach to improving the quality and performance of an organization. It initially emerged as a product-focused methodology but has since evolved into a holistic approach encompassing all organizational aspects.
In its early stages, TQM primarily focused on improving product quality through the following fundamental principles and practices:
Customer Focus
TQM emphasized understanding and meeting customer expectations. Customer feedback and satisfaction were at the core of quality improvement efforts.
Continuous Improvement
TQM embraced a philosophy of continuous improvement, aiming to reduce product defects and errors. Techniques like statistical process control (SPC) and Six Sigma were employed to measure and enhance product quality.
Employee Involvement
Employees were encouraged to actively participate in quality improvement initiatives. Their input was valued, and they were empowered to identify and address quality issues.
Process Management
TQM recognized that quality issues often stemmed from process deficiencies. It emphasized process analysis and optimization to reduce variability and improve product consistency.
Over time, TQM has evolved into a more comprehensive and holistic approach that extends beyond product quality to encompass all aspects of an organization's operations:
Total Organizational Focus
Holistic TQM considers quality in all organizational functions, not just the end product. It recognizes that quality is not solely the responsibility of the manufacturing department but extends to areas such as customer service, supply chain management, and strategic planning.
Supplier Relationships
TQM now places significant emphasis on building solid relationships with suppliers. Collaborative partnerships with suppliers are essential to ensuring the quality of raw materials and components.
Employee Development
In addition to involving employees in quality improvement efforts, holistic TQM strongly emphasizes their ongoing development and training. A well-trained and motivated workforce is seen as a critical driver of quality.
Data-Driven Decision-Making
Holistic TQM uses data and analytics to drive organizational decision-making. It uses data to identify trends, anticipate issues, and make informed choices about quality improvements.
Leadership and Culture
TQM recognizes leadership's critical role in creating a quality organizational culture. Leaders set the tone for quality expectations and behaviors.
Customer-Centricity
While early TQM focused on customer satisfaction, holistic TQM takes it further by integrating the voice of the customer into product and service design, as well as strategic planning. It seeks to exceed customer expectations and create loyal, long-term relationships.
Sustainability and Environmental Considerations
Modern TQM also encompasses sustainability and environmental responsibility. Organizations consider the ecological impact of their operations and strive to reduce waste and resource consumption.


Kaizen
Kaizen is a Japanese term that translates to "continuous improvement" or "change for the better." Its philosophy and methodology focus on making small, incremental improvements in processes, products, or services over time. Kaizen is often associated with the manufacturing industry but can be applied to any area of an organization.
Continuous Improvement
Kaizen is built on the idea that even minor, gradual improvements can lead to significant advancements over time. It encourages a culture of never-ending improvement where every employee is empowered to identify and implement changes.
Elimination of Waste (Muda)
Kaizen seeks to identify and eliminate process waste. There are seven common types of waste in Lean thinking: overproduction, waiting, unnecessary transportation, over-processing, excess inventory, defects, and underutilized employee skills.
Gemba (Go and See)
Kaizen promotes going to the workplace, known as "Gemba," to observe processes firsthand. This hands-on approach allows for a better understanding of the work and helps identify areas for improvement.
Standard Work
Kaizen emphasizes the creation and adherence to standard work procedures. These standards serve as a foundation for continuous improvement efforts and ensure consistency in operations.
Employee Involvement
Kaizen values the input and expertise of employees at all levels. Teamwork and collaboration are essential, as employees are encouraged to actively identify problems and suggest improvements.
Visual Management
Visual cues and displays make information about processes and performance readily available. This transparency helps employees understand the current state and identify opportunities for improvement.
Incremental Changes
Kaizen advocates for making small, gradual changes rather than large, disruptive ones. This approach minimizes risk and allows for easier adjustments if a change does not yield the desired results.
Data-Driven Decision-Making
Data and performance metrics play a crucial role in Kaizen. Data is used to measure progress, identify issues, and validate the impact of improvements. It ensures that changes are based on evidence rather than assumptions.
Respect for People
Kaizen promotes a culture of respect for all employees. It values their contributions, encourages their development, and recognizes their role in the improvement process.


Business Process Management (BPM)
Business Process Management (BPM) is a holistic approach to managing and improving an organization's processes for better efficiency, effectiveness, and overall performance. BPM improvement methodologies provide structured frameworks for analyzing, designing, implementing, and continuously optimizing business processes. One commonly used BPM improvement methodology is known as the Business Process Improvement (BPI) or Business Process Reengineering (BPR) methodology.
Identify and Define Processes
The first step is to identify and define the specific processes within the organization that need improvement. This involves selecting processes that are critical to achieving business objectives or those that are causing operational bottlenecks. Organizations must document these processes comprehensively, outlining the key steps, inputs, outputs, stakeholders, and performance metrics.
Analyze Current Processes
In this phase, organizations analyze the existing processes to understand their strengths, weaknesses, and areas for improvement. The goal is to identify bottlenecks, inefficiencies, and opportunities for optimization. Analyzing current processes involves using tools like process mapping, data analysis, and stakeholder interviews to gain insights into how the procedures operate and where issues may exist.
Design Improved Processes
The design phase focuses on improvement projects that address the identified issues and align with organizational goals. The goal is to streamline processes, reduce waste, and enhance overall efficiency. Organizations develop new process models during this phase, incorporating best practices, automation, and innovative solutions to eliminate bottlenecks and improve process flow. Cross-functional teams often collaborate to design new processes.
Implement Changes
Once the new processes are designed, they need to be implemented within the organization. This phase involves implementing the redesigned processes and ensuring that employees are trained and equipped to work with the changes. Implementation requires careful planning, communication, and change management. It involves seamlessly transitioning from the old processes to the new ones, monitoring the progress, and addressing any challenges.
Monitor and Measure Performance
After implementation, it's essential to continuously monitor and measure the new processes' performance. This helps ensure that the desired improvements are achieved and sustained. Key performance indicators (KPIs) are established to track process performance. Regular data collection and analysis are conducted to identify deviations from expected outcomes.
Continuous Improvement (Iterate)
BPM is an ongoing effort, and the final phase involves continuous improvements based on feedback and data analysis. This iterative approach ensures that processes remain optimized and aligned with evolving organizational goals. Organizations use the data collected in the monitoring phase to identify further areas for improvement. Cross-functional teams collaborate to implement changes, and the cycle repeats to drive ongoing process enhancements.


Other process improvement methodologies
In addition to these popular business process improvement techniques, organizations can use several other process improvement methodologies and approaches to improve their processes and operations.
Business Process Modeling (BPMN): BPMN is a graphical notation system for modeling and documenting business processes. It helps organizations visualize, analyze, and communicate their processes effectively, leading to process improvements.
ISO Standards: Various ISO standards, such as ISO 9001 for quality management, ISO 14001 for environmental management, and ISO 27001 for information security management, provide structured frameworks for improving specific aspects of business processes while ensuring compliance with international standards.
Total Productive Maintenance (TPM): TPM is a methodology aimed at maximizing the efficiency and effectiveness of equipment and machinery. It reduces downtime, improves equipment reliability, and optimizes maintenance processes.
Business Process Outsourcing (BPO): BPO involves partnering with external service providers to manage specific business processes. This can lead to process improvements through specialization and access to expertise.
Business Process Automation (BPA): BPA leverages technology to automate repetitive and manual process tasks. This approach can increase efficiency, reduce errors, and lead to faster processing times.
Future Trends in Process Improvement: Emerging Methodologies and Trends
Emerging trends in business process management, including the integration of design thinking principles, are shaping how organizations optimize their operations, enhance customer experiences, and stay competitive in a rapidly evolving business landscape.
Design thinking is being integrated into BPM methodologies. Organizations are increasingly using design thinking principles to better understand and address user needs in the context of process improvement. This human-centered approach ensures that processes are efficient, user-friendly, and aligned with customer expectations.
Robotic Process Automation is another rapidly growing trend in BPM. It involves using software robots to automate repetitive and rule-based tasks within processes. RPA streamlines workflows, reduces errors, and allows employees to focus on more value-added activities.
Intelligent Process Automation (IPA) combines RPA with artificial intelligence (AI) and machine learning (ML) to handle more complex and cognitive tasks. This trend is transforming BPM by automating decision-making processes, data analysis, and natural language interactions.
Sustainability is increasingly integrated into modern process optimization strategies as organizations recognize the importance of environmental and social responsibility in their operations. When optimizing processes, organizations consider the environmental impact of their operations. They aim to design strategies that minimize resource consumption, energy use, and emissions. Sustainability includes selecting eco-friendly materials, reducing waste, and optimizing energy efficiency. Many organizations publish sustainability reports that detail their efforts to integrate sustainability into their operations, including process optimization. Transparency helps build trust with stakeholders and demonstrates a commitment to sustainability.
Conclusion
Adopting the right process improvement methodology offers organizations a pathway to enhanced efficiency, increased quality, customer satisfaction, and sustained competitiveness. Businesses can streamline operations, reduce costs, minimize errors, and respond more effectively to customer needs by systematically analyzing, optimizing, and innovating their existing processes. Moreover, the right methodology fosters a culture of continuous improvement, empowers employees to contribute their insights, and positions organizations to adapt swiftly to changing market dynamics. Ultimately, it enables businesses to achieve short-term gains and build a foundation for long-term success, innovation, and resilience in an ever-evolving business landscape.
If you'd like to achieve these benefits, now is the time to assess your organization's needs, goals, and preparedness to adopt the best business process improvement methodology for you. Consider the nature of your processes, the maturity of your culture of improvement, and the needs of your customers and other stakeholders. You may find that a mix of methodologies is the right fit or that it is best to start with simple improvement principles and apply more structured techniques as the organization learns and grows.
The journey of continuous improvement is a powerful catalyst for organizational transformation, transcending size and industry boundaries. It embodies the relentless pursuit of excellence, where every step, no matter how small, contributes to a more efficient, innovative, and customer-centric operation. It empowers teams to challenge the status quo, uncover hidden opportunities, and redefine what's possible. Whether you're a startup aiming to disrupt the market or an established industry leader, embracing continuous improvement ignites a culture of adaptability and growth. It's a journey that has the potential to reshape your organization's destiny, propelling it toward a future where excellence is not an aspiration but a way of life.