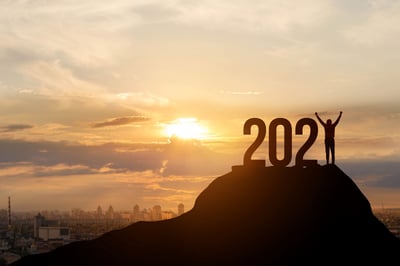 In 2020, we laid out some suggested continuous improvement resolutions. If the pandemic thwarted your plans and best intentions, give yourself a pass. No one knew what unprecedented challenges would arise.
But this is an excellent time to begin again and think about what your team can accomplish for continuous improvement in 2023. You'll have to consider your unique priorities, but we do have some suggestions for goals that will help your organization achieve excellence this year.


Cultural and Workforce Improvement Goals
We're going to start with culture because we believe that culture shifts have a more long-lasting and profound impact on the organization than just about anything else you can do. Here are some workforce improvement ideas for 2021.


Increased Skills Development. Knowledgeable employees are valuable and productive employees. Fostering new skill development is a common goal for organizations seeking to achieve continuous improvement and operational excellence. Consider programs to strengthen skills such as structured problem solving, leader standard work, and active coaching.


Increased Employee Engagement in Continuous Improvement Activities. Ultimately, any structured improvement effort's long-term success is tied to the organization's ability to drive front line ownership and accountability for continuous improvement. That's why setting goals for employee engagement in ongoing improvement activities is a smart way to go. Ensure your organization is intentional about keeping employees invested in the success of your continuous improvement program.


Improved Employee Satisfaction. We've written before about how employee engagement and employee satisfaction are two different things. Both are important, however. Job satisfaction can have a significant effect on employee productivity in any organization. Employees with high job satisfaction are also more likely to stay with the organization rather than seek employment opportunities elsewhere. Continuous improvement activities can facilitate increased employee satisfaction by making them allies in addressing the sources of waste and inefficiency that negatively affect their ability to produce their best work.
Operational Goals
Some operational goals that can be tied to your continuous improvement efforts include:


Improved Safety Performance. While many organizations manage the implementation of their workplace safety program separate from their improvement initiatives, the truth is that no organization can achieve excellence if it isn't operating safely. Therefore, a structured effort to improve operations must not interject risk into the organization's efforts to achieve workplace safety. Ideally, improvement efforts will reinforce the importance of appropriate safety practices and contribute to a safer environment through vulnerability identification, hazard reduction, and employee competency development.


Increased Value Stream Maximization. A common continuous improvement goal is to increase the productivity of each value stream within the organization. The benefits of increased productivity can take the form of increased throughput, improved workforce efficiency, or greater product or service flexibility and diversification.


Improved Quality. Improving the quality of products and services can increase customer retention and brand loyalty. In specific industries, such as food and beverage or healthcare, there are significant regulatory or customer consequences associated with suboptimal product or service quality that require a dogged focus on continuous improvement.


Financial Goals
While financial goals aren't everything, they are certainly important as well. Some financial goals might include:


Increased Sales. Most businesses want to improve their revenue volume in some way. However, the organization can only increase sales volume if it can reliably meet market demand. From an improvement perspective, this means finding ways to utilize resident capacity in the business that isn't being maximized because of waste, inefficiency, or lack of capability. In manufacturing, this situation is sometimes called the "hidden factory," but it exists in service-based organizations as well. Unleashing underutilized capacity is frequently the key to sustainable sales growth.


Improved Cost Competitiveness. The ability to differentiate from the competition based on cost (or, more accurately, value) is critical to most organizations' success, most especially those that operate in mature markets where the customer has many possible alternatives. Continuous improvement can play a significant role in driving expense out of the business.


Improved Cash Position. A sometimes overlooked financial benefit from continuous improvement lies in the amount of capital that can be leveraged to drive business growth. For example, suppose the organization can avoid or delay a significant capital expenditure (for example, a new manufacturing process, patient care facility, service center, etc.) because of improved productivity of existing assets. In that case, that money becomes available to be used in different ways to be more beneficial to the business. The same is true if the organization can reduce inventory or cut the cash-to-cash cycle time.
Aligning Improvement Goals to the Organization's Strategy
The sample goals listed above are by necessity generic in nature, but for continuous improvement to have the most positive impact on your organization, leaders must align the goals and objectives with the organization's overall business strategy.
Why?
Whenever an organization attempts to change behaviors, work habits, or mindsets, there will always be some resistance to change. A well planned, deliberate, and aligned approach to introducing the changes needed to meet improvement goals is necessary to minimize pushback within the organization.
An excellent way to make sure that continuous improvement initiatives are aligned with your organization's strategy is to ask a few crucial questions, including:
What is the long-term vision for continuous improvement within the organization?

How can this vision align with the organization's vision and mission?
What metrics will be used to measure the impact of improvement efforts on the organization?
Do resource allocation and the budget for continuous improvement align with the business' vision and goals?
How will we achieve strategy deployment into the organization?
What are the behaviors and mindsets that leaders need to change to sustain momentum moving forward?
By answering these essential questions, you can start adjusting your continuous improvement implementation strategy to align it with your organization's current reality and future goals. You'll develop an understanding of where you are and where you need to be.

Here's hoping that 2021 is a year of great success and learning.