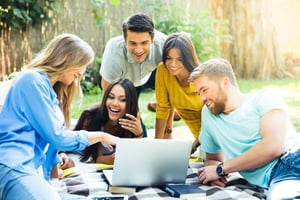 When I get the chance to interview someone who would like to join the KaiNexus team, I really only have one important question. I can safely assume that someone else has reviewed the candidate's qualifications and vetted that they have the skills required for the position in question. What I really want to know is whether the applicant understands the nature of our business and what we offer to our customers. With that in mind, my question is this,

"If you are selected for this role, and you go to your family reunion this summer, your aunt "Martha" will undoubtedly ask you about your new job. How will you describe what our company does?"
It's a tricky question, but not a trick one. There is no one perfect way to describe our Kaizen software solution, but there are some things I'm looking to hear. Aunt Martha's probably never heard of Kaizen, and she's even less likely to know that there are technology solutions designed to support it, so where does one begin?
Here are the fundamental Ideas I'd hope someone would mention when describing our business.
We help companies that are dedicated to continuous improvement
The word Kaizen means "change for better," in Japanese. Many companies use this idea as the guiding principle of their organization, empowering individual employees to recognize, implement, and own opportunities for improvement. The approach was first adopted as an organized business philosophy by Japanese automakers in the 1940's, but today it is widely practiced by businesses of all shapes and sizes in every industry from healthcare to construction.
Even if Aunt Martha's never heard of Lean or Six Sigma, the idea that businesses want continuous improvement is a perfectly relatable idea.


Kaizen software is the best way to organize and structure improvement
Once an organization has embraced the notion of continuous improvement, they need a way to implement, track, and manage all of the ideas for innovation and the projects that make it happen. Kaizen software creates the platform for collecting ideas for improvement and acting on them. Anyone in the company can submit an idea. It is then automatically routed to supervisors for review. Once an improvement is selected for implementation, the software provides alerts and notifications to make sure that everyone stays on track and that the process is fully documented. Visual cues are used to make it easy for leaders to measure and manage the results of improvement. Organizations that use software to support Kaizen complete more projects involve more people and enjoy better long-term results. A unified platform for improvement also removes barriers between business functions and allows for the breakthrough collaborations that lead to game-changing innovation.
If the interviewee gets those two ideas across, in one form or another, I'm feeling pretty good about their grasp of Kaizen software and our business. The candidates who knock the ball out of the park mention one more thing.


Kaizen software helps organizations measure the results of improvement over the long-term
One of the things that set Kaizen software apart from general project management tools is that it provides a mechanism for reporting on the impact of improvements. That way a business knows how these efforts are impacting key business metrics like profitability, customer satisfaction, employee engagement, time to market and so forth. This is important because when everyone from the executive team to front-line employees has clear visibility into how continuous improvement is paying off, they become more likely to invest time and resources into spreading and sustaining Kaizen.
So, there you have it, an easy and relatable way to describe Kaizen software to practically anyone and a blueprint for acing a job interview with me all rolled into one.
(In the event that your Aunt Martha happens to be a business systems guru or a Six Sigma black belt, here are some of the more technical details about Kaizen Software that you might be inclined to share over the potato salad. Enjoy!)