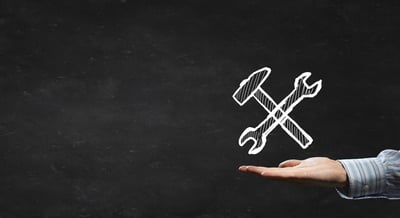 Organizations that embrace the continuous improvement approach to business have many great tools and techniques from which to choose. Some organizations use them as part of a structured methodology like Lean, Six Sigma, or Toyota Kata. Others leverage them on their own. Every organization has unique needs and will need to adjust each method for their own environment, but the most popular techniques are flexible enough to be used by organizations of every size and in every industry.
DMAIC and PDSA
DMAIC (Define, Measure, Analyze, Improve, Control) and PDSA (Plan, Do, Study, Adjust) are variations of the continuous improvement cycle. Each is designed to ensure structured and effective change management. Software is used to document each step of the cycle, notify team members when action is required, and measure the impact of the improvement. PDSA and DMAIC are the go-to improvement processes in many organizations.
Daily Huddles
Daily huddles are a prevalent practice in organizations dedicated to continuous improvement. Teams gather around a huddle board to discuss projects and help solve problems. These days, many companies have taken the huddle board to the cloud using improvement software to make it possible for people to participate from anywhere. The best solutions make it easy to capture the history of each improvement and help executives stay connected to the improvement work of all the teams they oversee.


Standard Work
Standard work is the bedrock of improvement. It consists of the documented current best practice for any given process or task. The Standard is created by the people who do the work, and it is continuously maintained to ensure accuracy and compliance. The Standard forms the basis for any future improvements that occur as a result of the PDSA or DMAIC improvement cycle. When the Standard needs revision, the cycle begins again.
Catchball
The Lean technique of Catchball involves moving ideas and information from one person or team to another for feedback and inspiration. It is particularly helpful for complex decision making and strategic planning. When people at every level of the organization have the opportunity to contribute to the development of goals and objectives, they are more emotionally invested and organizational alignment is simplified.


Gemba Walks
During a Gemba walk, leaders visit the place where work actually happens to show respect, ask questions, and identify opportunities for improvement. (Gemba means "the real place" in Japanese.) Improvements are never implemented during a Gemba walk. That occurs only after the walk is over and the proper analysis takes place.


Hoshin Kanri
Hoshin Kanri is a strategy development method that involves identifying the essential breakthrough objectives that can be achieved in a three to five-year timeframe. The Hoshin planning process aligns each person's objectives with the overall strategy, setting the stage for daily improvement work and keeping the strategy at the forefront of every decision.


Kanban Boards
Kanban is a technique used by improvement teams to help visualize their workflow and correct any interruptions in flow before a backlog forms or grows too big. Digital Kanban boards help make it visible when there are obstacles or delays. With this easy insight, managers can take the proper steps to solve any problems early on.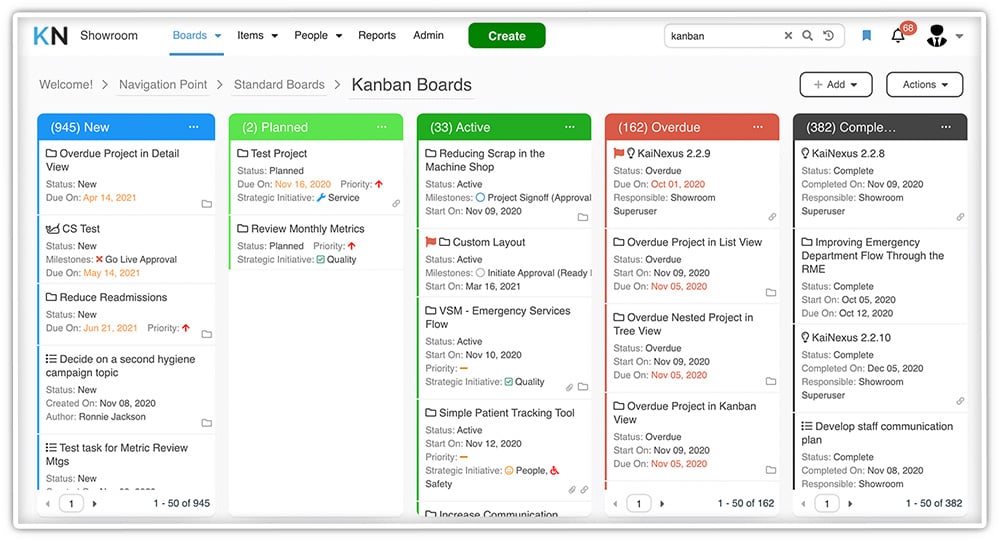 Rapid Improvement (or Kaizen) Events
While continuous improvement should be a daily activity, some challenges require a more concerted effort. During a rapid improvement event, a small team devotes 100% of their time for a few days (usually three to five) to improving a targeted process. Often these efforts require cross-functional collaboration. The event team typically includes an executive sponsor, a facilitator, subject matter experts, and the people who perform the targeted process or task.


Value Stream Mapping
The idea behind value stream mapping is to compare the current state or a process to a perfect state in which value is maximized and waste is non-existent. Visualizing the flow of value is an ideal way to make unnecessary work or resources obvious and to begin building the new Standard.
For more details on any of these methods for managing continuous improvement, just follow the links in this post. Did we leave out one of your favorites? If so, let us know in the comments.