Known in Lean and Six Sigma circles as Kaizen events, rapid improvement sprints or blitzes are an impactful way to implement improvement quickly. However, they require planning and preparation to make them effective. We've heard many stories about Kaizen events that went wrong. The best way to avoid that outcome is to put in the effort ahead of time to ensure your event is an unmitigated success.

What are the benefits of Kaizen events?

Improved Teamwork
Most Kaizen events require cross-functional collaboration. Process problems often happen when work moves from one functional area to another, so improving them usually involves getting people from different teams together. Collaboration is essential before the event to outline the project's scope and determine how the event will unfold. Team members must hone the vital skills of active listening and clear communication.


Training
If your organization has developed a culture of continuous improvement, the Kaizen way of thinking is probably natural to your employees. But team members who are new to the organization may not have been exposed to the language and tools of continuous improvement. A Kaizen event offers an excellent opportunity to introduce new people to tools like DMAIC, the 5 Whys, and Catchball.


Leadership Development
Each Kaizen event presents the opportunity for employees to exercise leadership skills. Someone will take on the role of facilitator and help guide the team through the improvement process. Whether it's an employee's first improvement event or their 100th, it is the perfect time to build practical and "soft" skills. In addition, participants who aren't in the facilitator role can reflect on what qualities they appreciate in the leader.


Problem Discovery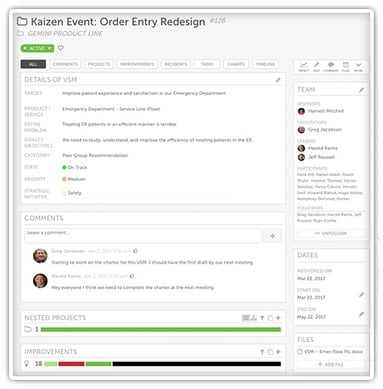 When the team starts to examine one process or problem, participants will have an excellent chance to uncover additional improvement opportunities. While it is critical to keep the Kaizen event within the scope of its charter, other ideas for improvement can be documented in your improvement management system. These new challenges may be resolved with a simple improvement cycle or may require another Kaizen event.


Culture Growth
Following a Kaizen event that yields positive results, leaders have the opportunity to broadcast the success across the organization. When other employees see that the team achieved its goals and was recognized for the effort, improvement starts to spread, and organizations see increased innovation and engagement ideas.
Tribal Knowledge
In organizations that leverage improvement management software to document and manage Kaizen events, every cycle leads to more information in the knowledge repository. As a result, processes become better understood, and the data is available to others for future projects.


Improved Future Events
One of the smartest things that participants can do following a Kaizen event is to review the experience and results to determine if changes can be made to improve future Kaizen events or other activities. For example, did the participants have the tools they needed? Was the plan well executed? Was there enough executive support? Were the objectives clear and in line with strategic priorities? Asking these and other questions will help create a plan for even better results in the future.
What is included in the Kaizen event charter?

Every Kaizen event is unique, so we expect each event charter to have its nuances that change from one event to the next. However, some elements tend to differentiate between a successful event and one that does not achieve its goals. Here are recommended parts of your Kaizen event charter.


Problem Description
The problem summary is perhaps the most critical section of the document. The problem description outlines the reason for this Kaizen improvement event. It should be narrow and detailed. This is your reason for bringing a team together, taking a break from other work, and addressing a solvable problem.
The Essential Event Participants
The essential event participants include the facilitator, the owner of the target process, and the event's executive sponsor. In addition, employees who operate the process to be improved should always be included. Some organizations use employees as Kaizen event facilitators; others hire a professional consultant for the job.


Additional Team Members
Aside from the essential participants, the charter should include anyone who will work on the effort. The team may consist of subject matter experts and sometimes internal and external customers depending on the issue. It is good to put everyone's contact information in the charter for quick reference.


The Scope of the Project
The project scope sets clear lines about the process to be improved and the boundaries for the event. Scope creep is a common problem during Kaizen events because participants will almost always find opportunities for improvement outside of the current target. A clear scope definition will help you avoid this problem. In addition, it is helpful to include language about what will not be addressed during this event.


The Schedule
The charter should include the number of days the team will devote to this improvement event. It is usually three and five days. Set the start and end date and the number of hours devoted to the event, and the starting time for each day. Other dates to set are when the team will share the results with the executive sponsor and other stakeholders. Location information might be included here as well.


Event Goals
Each event should have at least one or more measurable objectives. To understand results, you'll need a baseline metric that you are working to improve. It will be the basis for defining the success of the Kaizen event. Determine how the baseline and results will be measured. Ideally, you can find some way to visualize the current and future states. Process control charts are a good option.


Required Resources
In this part of the charter, the team will list all of the resources that will be required, including the budget, equipment, items, and people. Then, if it makes sense, record the date that each item will be needed and quantify the resource.


Potential Roadblocks/Constraints
It is best to go into the event with eyes wide open. At the outset and think about what obstacles are likely to arise. Considering the potential challenges in advance puts you better positioned to react and adjust.


The Day-by-Day Plan
In this part of the charter, you'll define what you expect to accomplish each day.


Improvement Category
We recommend assigning an improvement category for each Kaizen event. This helps leaders to understand what types of problems teams are addressing with the rapid improvement technique. This information can be added to data about other types of improvement projects to get a picture of improvement work in the organization. The categories will depend on the business, but many organizations choose customer satisfaction, quality, cost, safety, and efficiency.
What is a good agenda for a Kaizen event?
As with the charter, the schedule will vary from event to event, but they typically have a similar cadence. Here's an example schedule.


Item 1: Map the current state and document the desired state
Before any improvements can be enjoyed, it is necessary to understand and document the current state of the process thoroughly. The participants can use value stream mapping to visualize the current process flow. If Voice of the Customer or other customer satisfaction information is available, it should be shared. Once consensus is reached on the current process, the focus can move to defining the desired state and agreeing on which metrics will signify success.


Item 2: Consider solutions and agree on improvements to implement
No matter how long your Kaizen event lasts, never skip Item 1. It is tempting for folks to get right to the problem-solving phase, but without a clear understanding of the current and desired results, you can end up with solutions that don't address the root causes of the problem. During Item 2, the team facilitator should ensure that everyone is heard and encourage all participants to think creatively. Everyone in the group must be ready to accept new ideas and different perspectives. It may take some time to agree on what steps to take, and that's OK.

Next, identify any resources that will be necessary to implement the changes the group has selected. Finally, the event's executive sponsor should get an update and help secure the support needed to move forward.
Item 3: Implement improvements
Once the team has decided what changes to implement and secured the necessary resources, it's time to get moving. The changes are introduced to the involved parties and put into place. If this can't happen during the timeframe of a Kaizen event, it is best to choose a different improvement technique for that process or problem.


Item 4: Measure results and develop new Standard Work
After the improvements are implemented, there should be time to observe and possibly refine them before the process changes are considered final. The metrics you defined in the charter should be measured to evaluate whether improvement has been achieved. After you are satisfied with the new process, a new Standard Work document should be created.


Item 5: Operationalize the Improvement
Operationalizing the change means training process operators on the new Standard Work and sharing the results with leaders and the rest of the organization. In addition, lessons learned should be documented in your organization's knowledge repository for improvement so that the next event is even better.
Post-Event Followup
The work to sustain the improvement continues after the event. Set a regular cadence for measurement so that you can review the results of your changes 30, 60, and 90 days after implementation. Pay attention to whether the new Standard Work is being followed and decide when it will be time to reassess the process for potential further improvement.
When to use a Kaizen event?
The most common question we get after, "What is a Kaizen event," is, "Should I do daily Kaizen or Kaizen events?" The answer is, "Yes." Daily improvement is required to tackle minor problems before they become big ones and sustain improvements that have been implemented.

However, some problems require a more drastic approach. Kaizen events involve a significant investment of human capital, so they aren't always the right tool for the job. But here are some situations where rapid improvement is the perfect fit.
There is a significant problem that needs to be addressed right away.
Hopefully, you don't have too many of these, but the organization may be faced with a problem so concerning and urgent that an all-hands-on-deck response is required once in a while. For example, perhaps there is a spike in defects, an unexplained increase in customer complaints, a failed inspection, or another issue that puts the organization at risk. A Kaizen event is a reasonable response in these situations.


There's a significant potential impact on KPIs or strategic goals.
Some process improvements are not aimed at problem-solving; instead, they are done to achieve strategic objectives or make a game-changing difference to key performance metrics. In those cases, a Kaizen event can help teams move quickly. It is essential to understand the current state and results and determine how you will measure the impact of the implemented improvements. Repeated daily improvements aren't getting results.

Suppose you've been using continuous improvement cycles like PDSA or DMAIC as part of a daily improvement effort geared toward a particular process but aren't seeing results. In that case, a rapid improvement event might be an effective way of gaining momentum. During a Kaizen event, the participants have time to consider many potential solutions and determine which will best address the root cause.


Improvement is a reasonably expected outcome.
Organizations generally don't invest the effort of a Kaizen event for small problems or those with little impact. The opposite is also true. Some issues are too complex and widespread to be addressed in the tight timeframe of a Kaizen event. In that case, another approach better suited for complicated problems is in order.


Cross-functional collaboration is required.
Team members stay good at what they practice. If you use Kaizen events only on rare occasions, people won't have the opportunity to learn and develop the problem-solving and collaboration skills necessary for success. Kaizen events can be used to reach desired outcomes beyond the apparent improvement target. They also allow people to practice leadership and teamwork skills.


It's been a long time since your last Kaizen event.
Team members get good at what they practice. If you use Kaizen events only on rare occasions, people won't have the opportunity to learn and develop the problem-solving and collaboration skills necessary for success. Kaizen events can be used to reach desired outcomes beyond the apparent improvement target. They also allow people to practice leadership and teamwork skills.


You have new employees.
Kaizen events are helpful for introducing new team members to continuous improvement and the tools used to achieve it. General Kaizen training is critical, but people learn well by doing. In addition to discovering how a Kaizen event works, the intensity of rapid improvement will help your new employees make personal connections with other team members and practice Lean and Six Sigma improvement tools.


A Note on Remote Kaizen Events
While in-person Kaizen events are ideal for most situations, with many people working from home due to COVID-19, we are often asked if remote Kaizen events are even possible. Of course, it is absolutely possible to have a successful Kaizen event with everyone working remotely. Still, there are some essential things to consider including, choosing a strong moderator and making sure that you have full executive support. This post outlines ten critical things to keep in mind for your remote improvement event.
Kaizen events are an outstanding improvement technique. When executed against the right problems with the right participants, they can have a transformational impact on your organization.